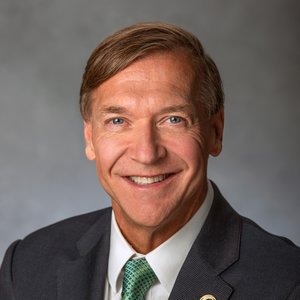 Samuel L. Stanley, Jr.
President, Michigan State University
Quick Facts
East Lansing, Michigan
49,695 Students
President Samuel L. Stanley Jr., M.D., has moved decisively since his August 2019 arrival at Michigan State University. Among his top priorities are ensuring a safe, respectful and welcoming campus; advancing student success and well-being; growing academic and research excellence; increasing diversity, equity and inclusion; and continuing MSU's extraordinary regional and global impact.
Born in Seattle, he earned a Bachelor of Arts from the University of Chicago and his medical degree from Harvard Medical School. He completed a fellowship in infectious diseases at Washington University in St. Louis. A distinguished biomedical researcher, Stanley was one of the nation's top recipients of support from the National Institutes of Health for his research on emerging infectious diseases. 
Stanley was appointed vice chancellor for research at Washington University in St. Louis in 2006, serving in that position until he was appointed president of Stony Brook University in New York in 2009, where he served for 10 years.