Strada Education Network Launches $10 Million Beyond Completion Challenge in Partnership with the Taskforce on Higher Education and Opportunity
Grant competition seeks to connect learning with employment for first-generation students, those who struggle to afford education, and students of color.
INDIANAPOLIS — Strada Education Network announced today a $10 million grant challenge aimed at helping higher education institutions launch, test, and scale innovations that improve career and life opportunities after graduation for more students of color as well as first-generation students and those who struggle to afford education.
Strada is partnering with the Taskforce on Higher Education and Opportunity to launch the Beyond Completion Challenge to reimagine higher education to better serve students' needs. Each institution participating in the challenge will develop an initiative on their campus or in collaboration with other organizations, including industry partners, that fosters a more effective higher education experience. The challenge — which includes $3 million in innovation grants this year and $7 million in scaling grants in 2022 — is intended to support initiatives that will focus on equitable outcomes through and beyond college completion. The Taskforce, created in the spring of 2020 by three dozen presidents and chancellors representing close to 100 colleges and universities and 2.4 million students with organizational support from McKinsey & Company, has been working to improve higher education to address persistent inequities that were exacerbated by the pandemic.
"We want to recognize and extend the great work these institutions are already doing to re-envision postsecondary education. We hope the Beyond Completion Challenge will help close equity gaps for more graduates, especially for those who have faced the most barriers," said Strada's Ruth Watkins. "We must shift our focus beyond completion of credentials and degrees. We need to design and deliver an educational experience that connects learning with employment so that every student can secure a good job, do meaningful work, and lead a fulfilling life."
James B. Milliken, chancellor of The University of Texas System and a member of the Taskforce, said support from Strada is an important milestone in the Taskforce's work and a vote of confidence in the colleges and universities who are collaborating to improve student outcomes beyond earning a credential or degree.
"Institutions of higher education must actively connect learning with employment so that we can meet the needs of our workforce and provide equitable outcomes for students," Milliken said.
"This funding will help give institutions the resources to create those pathways." CUNY Chancellor Félix V. Matos Rodríguez said the challenge "aligns with the priorities of the Taskforce and CUNY's own ongoing efforts to connect students, especially those from underserved communities, to employment opportunities that advance their careers and remove barriers to economic and social mobility."
"This grant competition is a testament to the value and efficacy of the Taskforce, which, through partnerships like this, advances the goal of realizing a more equitable and inclusive economic recovery, one that embraces and creates career pathways for the most vulnerable students," he said.
President Kate Smith of Rio Salado College, said: "This generous investment Strada is making in the Taskforce will provide critical seed money for colleges to create new, customized learning opportunities that increase access to higher learning, gainful employment, and socio-economic mobility."
About the Beyond Completion Challenge
The challenge will be conducted in two phases. In this first phase, Taskforce institutions are invited to propose new projects that will help students achieve measurable outcomes focused on employment, economic stability, and fulfillment of purpose. Up to 15 projects will be funded at up to $250,000 per project for a total of $3 million to be awarded in Phase One.
In 2022, institutions that were awarded support in Phase One, and other Taskforce members, will be invited to expand their work. The emphasis in Phase Two will be to reach larger numbers of students or to partner with other institutions or industries to significantly share and expand effective practices. An additional up to $7 million will be awarded in Phase Two.
Courtney McBeth, Strada senior vice president who is leading the challenge, said priority will be given to those proposals that include diverse and inclusive leadership and implementation teams, student perspectives, data to identify solutions, and initiatives with the potential to be expanded and sustained to help large numbers of students in the future. In addition, institutions must show strong support by their leadership and be eager to pursue additional public, philanthropic, and institutional funding to support the initiative.
Learn more about the Taskforce's work and Strada's Beyond Completion Challenge here.
About Strada Education Network
Strada Education Network is a new kind of nonprofit social impact organization, dedicated to increasing individuals' economic mobility through purposeful connections between education and employment. Our approach combines innovative research, thought leadership, strategic philanthropy and investments, and support for individuals through student coaching, work-based learning, career exploration, and helping adults learn new skills throughout their careers.
Together, we work to better serve the millions of Americans seeking to complete postsecondary education and training, gain clear value from those experiences, and build meaningful careers. Learn more at stradaeducation.org.
About the Taskforce on Higher Education and Opportunity
The Taskforce on Higher Education and Opportunity is a community of three dozen presidents and chancellors representing nearly 100 public, private, two- and four-year institutions and 2.4 million students. The Taskforce was launched in 2020 to address the challenges of the pandemic, income inequality, the changing nature of work, and unemployment among recent college graduates. Learn more at Taskforceonhighered.org.
Washington Post | LIVE
U.S. Higher Education: Rethinking the Possibilities
The Taskforce on Higher Education and Opportunity is proud to sponsor the upcoming Washington Post Live program, U.S. Higher Education: Rethinking the Possibilities on Thursday, March 25 at 12:00 p.m., Eastern. The program will feature one of America's experts on the evolving role of higher education as well as a former dean of Howard University's School of Education.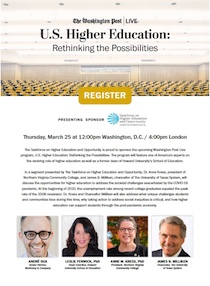 In a segment presented by The Taskforce on Higher Education and Opportunity, Dr. Anne Kress, president of Northern Virginia Community College, and James B. Milliken, chancellor of The University of Texas System, will discuss the opportunities for higher education to address the societal challenges exacerbated by the COVID-19 pandemic. At the beginning of 2020, the unemployment rate among recent college graduates equaled the peak rate of the 2008 recession. Dr. Kress and Chancellor Milliken will also address what unique challenges students and communities face during this time, why taking action to address social inequities is critical, and how higher education can support students through the post-pandemic economy.
University Leaders Nationwide Launch Taskforce on Higher Education and Opportunity
Wide-ranging partnership of nearly 40 higher education leaders commits to address major challenges facing students and communities across the country.
Today, leaders from 38 higher education institutions and partner organizations launched the Taskforce on Higher Education and Opportunity. They are driven to act by the challenges of the pandemic, income inequality, the changing nature of work, and unemployment among recent college graduates being nearly double the 2008 recession. The impact of this crisis is falling unevenly across groups, disproportionately impacting people of color no matter their educational backgrounds. The Taskforce will provide greater opportunity to students and their communities, while reimagining higher education's contribution to society and sharing insights with the broader education community.
The Taskforce brings together members from across American higher education, including public, private, two-year, and four-year institutions that represent 2.5 million students nationwide. Taskforce members are focused on three key goals: ensuring student success despite the worst recession since World War II, partnering with local communities, and reimagining how higher education is delivered.
Schools will take individual and collective action to meet the shared mission of the Taskforce through new goals set every six months. Member institutions are now launching the first round of initiatives to prepare the graduates of 2021 - 2023 for success in the post-pandemic economy. In the coming months, Taskforce members will develop programs to support local communities, and additional programs will follow to reimagine the future of higher education and prepare students for work in a post-pandemic world.
"The true measure of success for any higher education institution is the success of all of its students in reaching their full potential. Unfortunately, outcomes for different groups remain unequal, and the Covid-19 pandemic is only exacerbating the differences," said Georgia Institute of Technology President Ángel Cabrera. "Georgia Tech is proud to join together with peers and partners across the country in this shared commitment. With Career Alliance @ Georgia Tech, we want to ensure all students get the resources and access they need to turn their Georgia Tech degree into long-term professional success."
For the first round of initiatives, Taskforce members are taking action to set students and graduates up for success and security in the post-pandemic economy. That includes creating opportunities for students to gain valuable skills and professional experience. The first round of initiatives will help prepare students for post-graduate employment through internships, mentoring, credentialing opportunities, and other professional development programs. For example, Career Alliance @ Georgia Tech, an initiative launched by Georgia Tech, will connect students with internship, work-study, and mentorship opportunities to learn marketable job skills.
"The career advancement program we're launching will be a true game-changer," said Anne M. Kress, President of Northern Virginia Community College, and Taskforce executive committee member. "The Achieve Career Excellence (ACE) program demonstrates how an essential road to recovery for individuals, communities, and the economy runs through our nation's community colleges."
Though each initiative is different, all focus on helping students learn the skills they need to begin a successful career after graduation. Achieve Career Excellence enables Northern Virginia Community College students to earn professional credentials while still at school, giving them a leg up in the post-graduate hiring process. The University of Texas System's initiative will also expand credentialing opportunities for students, identifying skill gaps from employers statewide and empowering students to fill those gaps by learning in-demand skills.
"Higher education plays a unique role in unlocking opportunity. It should deliver for all members of our society," said James B. Milliken, Chancellor of the University of Texas System, and Taskforce executive committee member. "Post-graduate success today isn't going to look like post-graduate success tomorrow. Our initiative, Texas Credentials for the Future, focuses on ensuring that support is in place long after students leave campus."
Taskforce membership will continue to grow to diversify and scale impact with a focus on action – uniquely positioning the Taskforce in the higher education space. To learn more about the Taskforce and member institutions' initiatives, click here.
Taskforce members include:
Mark Becker, President of Georgia State University
Gene D. Block, Chancellor of University of California, Los Angeles
Seth Bodnar, President of University of Montana
Bob Brown, President of Boston University*
Ángel Cabrera, President of Georgia Institute of Technology
Mary Schmidt Campbell, President of Spelman College*
Michael Crow, President of Arizona State University
Carol Folt, President of University of Southern California*
Joan Gabel, President University of Minnesota
Patrick Gallagher, Chancellor of University of Pittsburgh
Michael L. Good, President of University of Utah
Kevin Guskiewicz, Chancellor of University of North Carolina at Chapel Hill
Andrew David Hamilton, President of New York University
Anne Kress, President of Northern Virginia Community College*
Paul LeBlanc, President of Southern New Hampshire University
Linda Livingstone, President of Baylor University
Sarah Mangelsdorf, President of University of Rochester
Andrew Martin, Chancellor of Washington University in St. Louis
Harold Martin, Chancellor of North Carolina A&T State University
Félix V. Matos Rodríguez, Chancellor of City University of New York*
Gary May, Chancellor of University of California, Davis
Joe May, Chancellor of Dallas College
James Milliken, Chancellor of University of Texas System*
Mark Mitsui, President of Portland Community College
Darryll Pines, President of University of Maryland
Vincent Price, President of Duke University
Scott Pulsipher, President of Western Governors University*
Scott Ralls, President of Wake Technical Community College
Robert C. Robbins, President of University of Arizona*
Timothy Sands, President of Virginia Tech
Michael Schill, President of University of Oregon
Kate Smith, President of Rio Salado College
Samuel L. Stanley, Jr., President of Michigan State University
Astrid S. Tuminez, President of Utah Valley University
Gregory Washington, President of George Mason University
Federico Zaragoza, President of College of Southern Nevada
Ruth Watkins, President of Strada Impact at Strada Education Network
André Dua, Senior Partner, McKinsey & Company*
* Indicates Taskforce Executive Committee Member and/or Goal 1 Initiative Lead