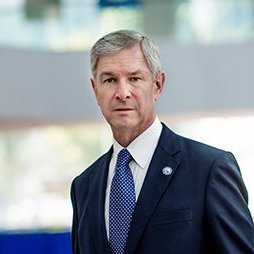 Mark P. Becker
President, Georgia State University
Quick Facts
Atlanta, Georgia
54,000 Students
Since beginning his tenure as Georgia State University's seventh president in 2009, President Mark P. Becker has led Georgia State through a dynamic period of growth and advancement and put it on a trajectory to reshape itself and its region. Under his leadership, the university has pursued a 10-year strategic plan through which Georgia State has emerged as one of the nation's leading higher education institutions.
Georgia State's consolidation in 2016 with Georgia Perimeter College, a two-year institution with five campuses in metro Atlanta, raised its student population to more than 53,000 and made it the largest university in Georgia and one of the largest in the nation. 
 
One of the most diverse universities in the U.S., Georgia State is a national model for student success, setting records for its graduation rates and the number of students it graduates, and leading the country in eliminating disparities in student achievement based on race, ethnicity and income. Georgia State has built a burgeoning research enterprise, growing sponsored research at more than twice the national rate. The university has been recognized as a major catalyst for the revitalization of downtown Atlanta and the economic vitality of its region.