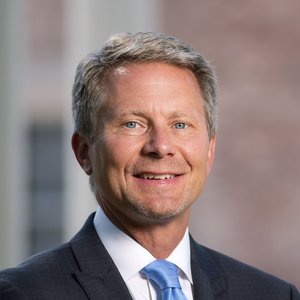 Kevin M. Guskiewicz
Chancellor, The University of North Carolina at Chapel Hill
Quick Facts
Chapel Hill, North Carolina
30,092 Students
Kevin M. Guskiewicz, a neuroscientist, academic leader and concussion researcher, is the 12th chancellor of the University of North Carolina at Chapel Hill (UNC-CH). 
Prior to his appointment as chancellor, Guskiewicz served as the interim chancellor and as dean of the College of Arts & Sciences. A Kenan Distinguished Professor of Exercise and Sport Science, he has been a member of Carolina's faculty since 1995. He is co-director of the Matthew Gfeller Sport-Related Traumatic Brain Injury Research Center. A nationally recognized expert on sport-related concussions, his work has influenced concussion guidelines in the NFL, NCAA and National Federation of State High School Associations. He has been recognized with numerous awards, including a MacArthur Fellowship. 
Guskiewicz earned his Ph.D. in sports medicine from the University of Virginia. He lives with his wife Amy and children Jacob, Nathan, Adam and Tessa in Chapel Hill.