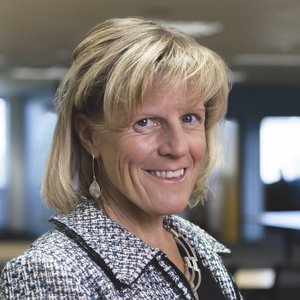 Kate Smith
President, Rio Salado College
Quick Facts
Tempe, Arizona
37,086 Students
Kate Smith began serving as Rio Salado College's sixth president on May 15, 2021, a role she accepted after serving as the college's interim president since August 2018. With nearly 30 years of experience in education, she is a highly regarded and enthusiastic leader who advocates for student success on all levels. Smith understands the barriers that non-traditional students face and is dedicated to making education affordable, accessible and equitable.
Smith decided to devote her career to education with one mission in mind. "Teachers and education change lives— quite simply, that is why I chose a career in education." Today, she continues to champion for making education accessible and equitable for all.
"As the president of Rio Salado College, I am eager to advance the progress that has been made by our college to increase access and support students to succeed here in Arizona and across the country through innovative programs, services and partnerships."
Community development and partnerships are a cornerstone of Rio Salado College's history and President Smith's administration, which is continuing the tradition of working with other colleges and universities, industry and thought leaders to improve higher learning for all.
Among President Smith's community development roles include founding member of WGU Labs' College Innovation Network; Presidents Forum Governing Board Member; founding member of the Taskforce on Higher Education and Opportunity; co-chair of the education committee for the Arizona-Mexico Commission; East Valley Partnerships Board of Directors; membership in the Alliance for Innovation & Transformation; Excelencia Presidents for Latino Student Success; Friends of Public Radio Ex Officio Member; Higher Education Research and Development Institute Advisory Board Member; Valley of the Sun United Way Women United member; and Tempe Chamber of Commerce Board Member.