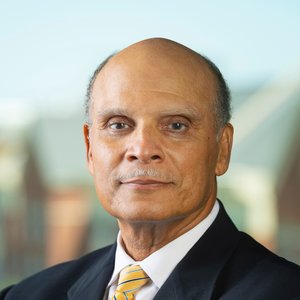 Harold L. Martin, Sr.
Chancellor, North Carolina Agricultural and Technical State University
Quick Facts
Greensboro, North Carolina
12,754 Students
Harold L. Martin Sr. is the 12th chancellor of North Carolina Agricultural and Technical State University. Under his leadership, N.C. A&T has become one of the nation's top producers of African
American graduates in STEM and other disciplines, has increased its enrollment by 20.77% over the last seven years and has increased its statewide economic impact to more than $1.5 billion. Heralded as an education and business thought leader, Martin has been instrumental in establishing and fostering strategic partnerships in higher education and business.
Prior to his election in 2009, Martin was senior vice president for academic affairs/chief academic officer for the University of North Carolina System. He also served as chancellor of Winston-Salem State University and in various administrative posts at N.C. A&T.
Martin received his B.S. and M.S. degrees in electrical engineering from N.C. A&T and his Ph.D. in electrical engineering from Virginia Polytechnic Institute and State University.