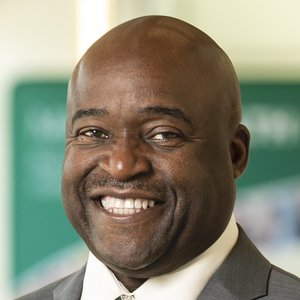 Gregory N. Washington
President, George Mason University
Quick Facts
Fairfax, Virginia
39,174 Students
Gregory N. Washington president of Virginia's largest, most diverse, and most innovative university.  Formerly dean of the University of California, Irvine Henry Samueli School of Engineering, and former interim dean of the College of Engineering at The Ohio State University, he is regarded nationally as a strategic and collaborative solutions-oriented leader, committed to providing opportunities for students of all backgrounds.
At UCI, Dr. Washington dramatically expanded enrollment and undergraduate research in engineering, and recruited one of the most diverse engineering faculty cohorts in the country.
Dr. Washington's academic career began at OSU's Department of Mechanical and Aerospace Engineering. He went on become interim engineering dean. 
His research on in dynamic systems, emphasizing smart material structures and systems, has benefitted NSF, NASA, General Motors, the Air Force Research Laboratory, and the Army Research Office. He has served on the Air Force Scientific Advisory Board, NSF Engineering Advisory Committee, Institute for Defense Analyses, the Octane Board of Directors.
A first-generation college graduate, Dr. Washington earned his bachelor's and master's degrees, and his PhD, in mechanical engineering at North Carolina State University.