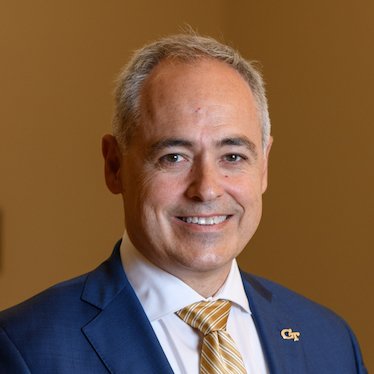 Ángel Cabrera
President, Georgia Institute of Technology
Quick Facts
Atlanta, Georgia
40,000 Students
Ángel Cabrera became president of the Georgia Institute of Technology in 2019 after serving as president of George Mason University.  
Cabrera has played a key role in advancing professional ethics, internationalization, and corporate social responsibility. As a senior advisor to the United Nations Global Compact, he was the lead author of the "Principles for Responsible Management Education," adopted by more than 700 schools around the world. He is a co-founder of the University Global Coalition, a network of universities working with the U.N. in support of the Sustainable Development Goals. 
Cabrera earned his M.S. and Ph.D. in cognitive psychology from Georgia Tech. He holds a B.S. and M.S. in computer and electrical engineering from Universidad Politécnica de Madrid. He has published extensively in academic journals and has been featured or quoted in leading media around the world. Cabrera is the first native of Spain to serve as president of an American university.